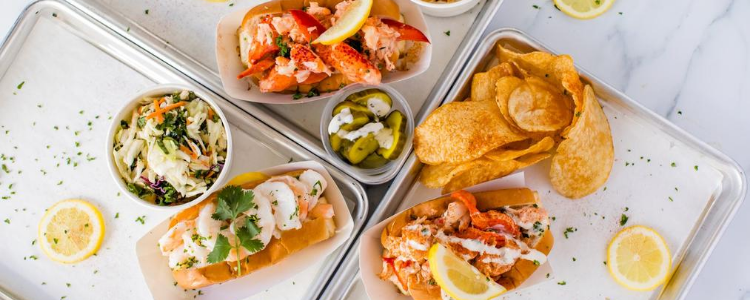 Plano is making a name for itself as a foodie destination, whether you're the adventurous type, a vegetarian, or just in the mood for a good old-fashioned burger. For beef that's arguably the GOAT (greatest of all time), check out Rodeo Goat, or sit down for a staggering 21-course feast at Shumi Omakase! From lunch to dinner and brunch to happy hour, join us in this culinary tour where there's a seat for everyone at the table in Plano.
If you're looking for a meal that's new and notable, Earl's Kitchen is the place for you. The sleek, urban interior will transport you from quaint suburbia to a metropolis haven. Our favorite dish is the Roasted Chicken and Truffle Mashed Potato paired with any of their innovative cocktails.
Looking for lunch in paradise? Take a shopping break at the Tommy Bahama restaurant in Legacy West, one of only two locations in the entire state! Enjoy Macadamia Nut Crusted Snapper while sipping on a Grapefruit Basil martini, all in a tropical oasis.
Nestled in the corner of Legacy West resides Legacy Hall, one of the nation's largest and most unique food halls is dedicated to serving the best-of food trends prepared by premier chefs and local artisans. The three-story European-style food hall, brewery and live music and entertainment venue at Legacy West was named USA Today's 2019 2nd Best Food Hall in the U.S.
Meet Mexican Sugar: a sultry Mexican comfort food mecca. This Pan-Latin restaurant offers refined dishes that are as bold in flavor as they are elegant in presentation. Everything is made from scratch and prepared with authentic ingredients and traditional cooking methods. So no need to get your passports, just head on over to Mexican Sugar for a journey south of the border.
Whether you like your coffee straight black or prefer your milk with coffee, Fourteen Eighteen Coffeehouse is a treasured gem in Plano you don't want to miss. Their craft coffee is locally sourced from Dallas' Oak Cliff Coffee, and their delectable pastries are sure to delay that diet you've been meaning to start. Our favorite drink is The Purple Haze, a café latte with lavender and vanilla that has just the right amount of freshness.
New to The Shops at Willow Bend is The District, a collection of buzz-worthy restaurants like Knife by James Beard-nominated and Bravo's "Top Chef " contestant Chef John Tesar. Recently named "Best Steakhouse" in Dallas by D Magazine, Knife serves Texas-raised beef, pork and lamb in dry-aged prime cuts for a reinvented steakhouse experience you won't find anywhere else.
Winner, winner, chicken dinner! At Whistle Britches, they're all about the chicken. We're talking crispy tenders, chicken biscuits, chicken n' waffles, and even the whole bird. Their pickle brined bird, farm-fresh ingredients and soulful cooking all come together to create some of Dallas' best fried chicken and will leave you wanting more. And did we mention the boozy milkshakes? Yes, please!
The Boardwalk at Granite Park is a 30,000 square foot restaurant pavilion in Granite Park. Check out two of our favorites, the Biscuit Bar, a delicious and unique take on sandwiches, and Union Bear Brewing Co., a locally owned and operated brewery. The area has multiple restaurants with beautiful patios, outside games like Connect Four and Corn Hole, and it's a great place to stroll, dine, and unwind.