NEW! NOM! NOM! NOM! Plano Edition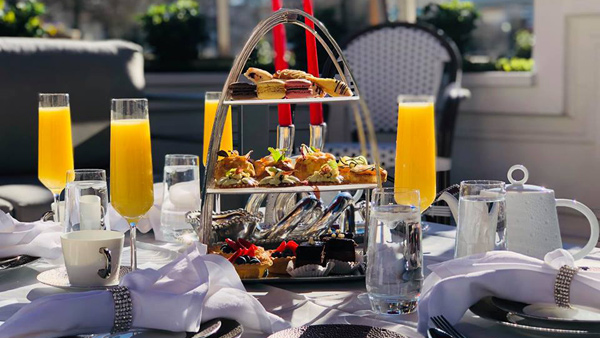 Plano is making a name for itself as a foodie destination whether you're the adventurous type, a vegetarian, or just in the mood for a good old-fashioned burger. The city's newest burger outpost boasts beef that's arguably the GOAT(greatest of all time), while a new Japanese spot boats a staggering 21-course feast.
Edith's French Bistro
Must Order: High Tea
Put on your fanciest dress, grab a hat, and head to Edith's French Bistro for high tea. The Plano location of this Dallas favorite features a menu of French treats like croissants the size of your head, plus the addition of a private tea room and a massive patio.
Bellagreen
Must Order: Honey Fried Goat Cheese & Arugula Salad
Bellagreen is taking North Texas by storm, and Plano is home to its latest location. The eco-friendly eatery operates with a reduced carbon footprint, and has a focus on organic ingredients. Most dishes, like the signature Brick Chicken, can be ordered gluten-free, dairy-free and/or vegetarian, and the proteins on the menu are sourced locally and sustainably.
Mexican Bar Company
Must Order: Pancita Tacos & Queso Mac 'n Cheese
New to The District at The Shops at Willow Bend, Mexican Bar Company is a new concept from James Beard featured Chef Patricio Sandoval. Expect handmade corn tortilla tacos and freshly-prepared ceviche, guacamole and salsa. Be sure to snap a pic with one of the many murals by local artists inside the restaurant.
Shumi Omakase
Must Order: The 21-course Omakase
They say go big or go home, and since no one's going home, you better go for the 14- or 21-course omakase (chef's choice) at Shumi Omakase. This chic spot features an elevated sushi bar at the center of the restaurant, so you can watch your feast being prepared. If you're not quite hungry enough for 21 courses, try one of their dishes with a Western twist, like the salmon sashimi pizza.
Rodeo Goat
Must Order: the Brad Sham + Cheese Fries Surprise & a Moontang
Rodeo Goat serves handcrafted burgers made exclusively with grass-fed beef. The menu features more than 20 of these creations, along with some pretty epic cheese fries. The signature cocktail is the frozen Moontang, featuring Firefly Moonshine blended with Tang "and other things."