NEW! NOM! NOM! NOM! Plano Edition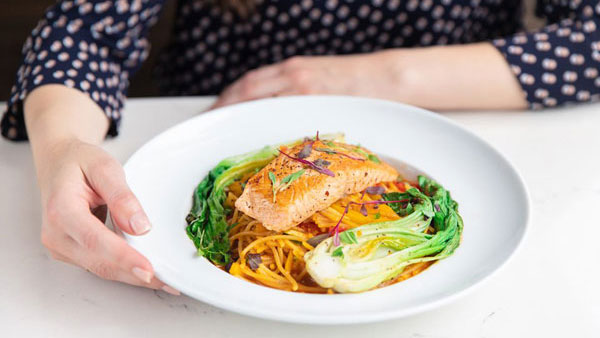 Plano is making a name for itself as a foodie destination whether you're the adventurous type, a vegetarian, or just in the mood for some Texas BBQ. From fast casual to fine dining, you'll find it all here. The city's newest BBQ restaurant boasts smoked meats prepared in at least 5 different ways, while a new Japanese spot specializes in bringing you traditional fare with a modern twist.
Acai and Alchemy
Must Order: Hawaiian – Island Bowl
Treat yourself (and your body) with a delicious acai bowl, fruit smoothie or hand-crafted tea from Acai and Alchemy! Located at The Shops at Willow Bend, you can experience this light and healthy fare seven days a week. Dairy-free and no sugar added, it's hard to beat (or resist)!
Bellagreen
Must Order: Honey Fried Goat Cheese & Arugula Salad
Bellagreen is taking North Texas by storm, and Plano is home to its latest location. The eco-friendly eatery operates with a reduced carbon footprint, and has a focus on organic ingredients. Most dishes, like the signature Brick Chicken, can be ordered gluten-free, dairy-free and/or vegetarian, and the proteins on the menu are sourced locally and sustainably.
CAVA
Must Order: Grain Bowl
Get in line at this fast-casual mediterainian restaurant serving up meals designed by you! Think Chipotle but with Greek inspiration – start off with your base, add your spread, protein and toppings. The fresh ingredients provide a crisp and healthy taste that leave you feeling lighter!
EBESU
Must Order: Anything off the robata grill!
Plano has welcomed EBESU, a modern Japanese bistro featuring contemporary and traditional Japanese fare. Exquisitely designed by Design Label Knot, this restaurant features a robata grill, which uses the popular Japanese charcoal, binchotan, to cook in front of its guests – talk about dinner and a show! If you're a sushi fan, go big and try the Aji sashimi, a whole horse mackerel!
Good Union BBQ
Must Order: Prime Smoked Brisket Sandwich
Every day starts off the same way at Good Union BBQ: high-quality meats are smoked to perfection and served up just about every way you like them! From BBQ tacos to salads, you will find something to satisfy your cravings. Top off your meal with a locally crafted beer and get ready to go into a food coma! This isn't your average BBQ joint.